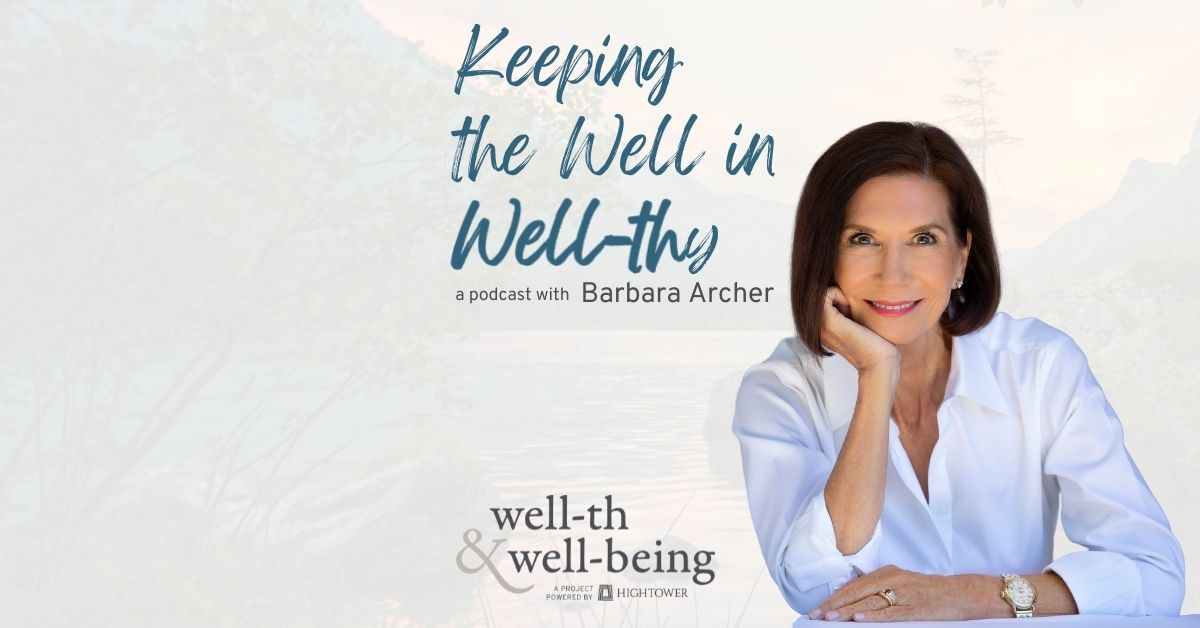 A Guide For Gratitude with Sarah Ban Breathnach (Ep. 7)
A Guide For Gratitude with Sarah Ban Breathnach (Ep. 7)
Are you interested to hear from a best-selling author who was once referenced by Time Magazine as the Martha Stewart of the Soul? 
In this episode, Barbara Archer is joined by Sarah Ban Breathnach, author of 13 books including her number one New York Times Best Seller: Simple Abundance, A Daybook of Comfort and Joy, and Something More: Excavating Your Authentic Self. She is the creator of two concepts, the gratitude journal, and the term authentic self. 
Barbara and Sarah discuss: 
How Sarah's journey with simple abundance started 

Some tips on how to incorporate feelings of gratitude into your daily life 

Why detailing the simple pleasures in life can get you closer to that feeling of gratitude on a daily basis

How to see gratitude through a three-coin analogy

And more
Resources:
Connect with Barbara Archer: 
About our Guest: 
A writer of remarkable wisdom, warmth, and compassion, Sarah Ban Breathnach (pronounced "Bon Brannock") has become a trusted voice for women around the world. Sarah is the author of thirteen books including the #1 New York Times bestsellers Simple Abundance: A Daybook of Comfort and Joy and Something More: Excavating Your Authentic Self and she is the creator of The Simple Abundance Journal of Gratitude. Sarah's work celebrates quiet joys, simple pleasures, and well-spent moments. By reminding us to search for the small and the sweet in our daily round with appreciation and awe, we find the beauty in the everyday.
Sarah's ground-breaking book, Simple Abundance, has sold over five million copies in the US, topped the New York Times Bestsellers list for two years, and has been translated into 28 languages. Simple Abundance is also responsible for introducing two concepts—the "Gratitude Journal" and the term "authentic self" into the American conversation. Sarah's follow-up to Simple Abundance, Something More, debuted at number one on the bestseller lists of the NY Times, USA Today, The Wall Street Journal, and Publisher's Weekly and has sold over 1.2 million copies to date. Sarah also became the first author in the history of the Wall Street Journal's weekly compilation of best-selling books to appear in both the Number One (Simple Abundance) and Number Two slots (The Simple Abundance Journal of Gratitude).
Sarah's other titles include The Best Part of the Day (her first foray into children's books), Peace and Plenty: Finding Your Path to Financial Serenity, The Peace and Plenty Journal of Well-Spent Moments, Romancing the Ordinary, The Simple Abundance Companion, The Illustrated Discovery Journal, A Man's Journey to Simple Abundance, Moving On, The Victorian Nursery Companion and Mrs. Sharp's Traditions.
Oprah Winfrey has called Sarah's work "life-changing" and Sarah has been a frequent guest on The Oprah Winfrey Show and OWN's Super Soul Sunday. Additionally, Sarah has been a contributing editor of Good Housekeeping and a nationally syndicated columnist for The Washington Post Writer's Group and was named as one of the 50 women redefining what it means to be fifty today by MORE Magazine. 
In 1995, Ban Breathnach founded the Simple Abundance Charitable Fund, which has aided over 100 non-profit organizations by awarding over one million dollars in financial support.
Time Magazine has called Sarah, "the Martha Stewart of the soul" and Deepak Chopra has said "Sarah Ban Breathnach is a one-woman women's movement, an awakener of awareness whose simple message has timeless roots…She exemplifies a surging social movement much greater than herself.  This is just the subversively cosmic voice society needs."
Sarah lives in Southern California near her daughter, Kate, and their beloved animals.
Third-party links and references are provided solely to share social, cultural, and educational information. Any reference in this post to any person, or organization, or activities, products, or services related to such person or organization, or any linkages from this post to the website of another party, do not constitute or imply the endorsement, recommendation, or favoring of Hightower Holdings, LLC, or any of its subsidiaries, employees or contractors acting on their behalf. Hightower Holdings, LLC, does not guarantee the accuracy or safety of any linked site.
Podcast: Play in new window | Download | Embed