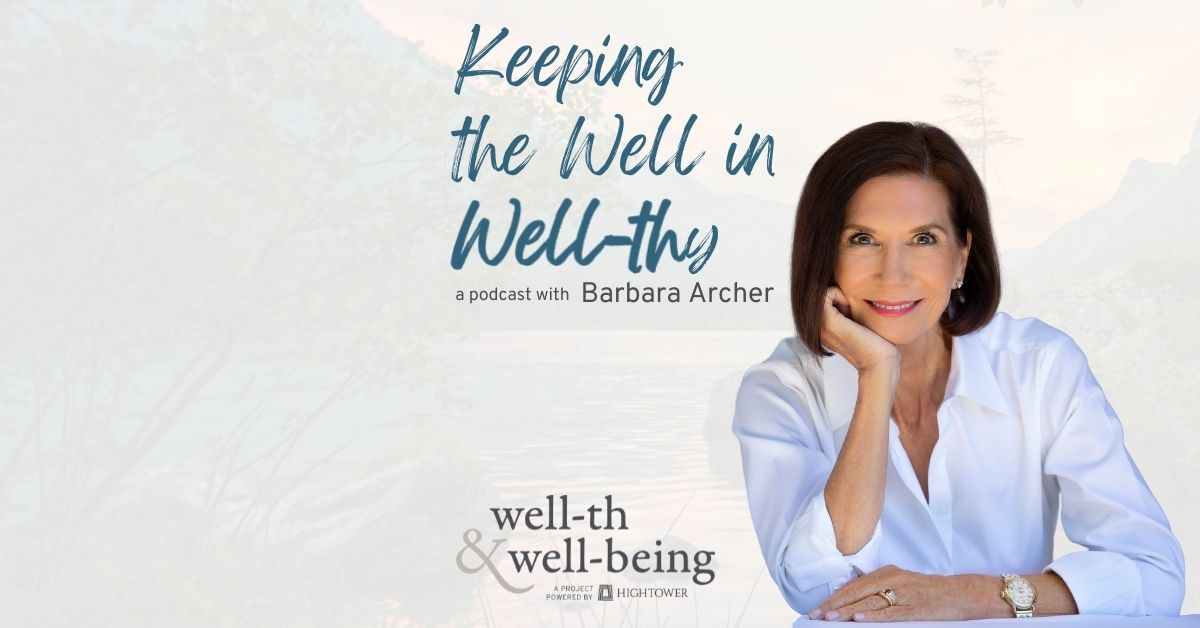 Breaking Money Silence with Kathleen Kingsbury (Ep. 14)
Breaking Money Silence with Kathleen Kingsbury (Ep. 14)
Did you know that talking about money is often considered more taboo than death, religion, or politics? It's time to break down those barriers and create an open, healthy space for discussing financial well-being.
Join us in this eye-opening episode as Barbara Archer invites Kathleen Kingsbury, a wealth psychology expert, and coach, to flip the script on finances. Kathleen shares her experience on how money impacts our psyche and overall health and offers valuable tips on how to start more productive dialogues about your finances.
Kathleen discusses: 
How to initiate a discussion about money with a partner or roommate

The appropriate age to have financial conversations with your children

The significance of establishing an open and constructive dialogue about money from an early age

Other tips for financial success
Don't miss out on this exciting opportunity to learn ways to assist you in taking control of your financial well-being and help you build a brighter future.. Tune in now and join the conversation!
Resources:
Connect with Barbara: 
About our Guest: 
Kathleen Kingsbury is a wealth psychology and behavioral change coach, consultant, and trainer. Her clients include women in business and financial services professionals. Kathleen's passion is empowering her clients to break their money silence to more effectively talk about money and finances. The goal is to help boost their financial confidence, improve their financial and negotiating skills, and help them build more profitable businesses. 
In addition to coaching and training, Kathleen hosts her own podcast, "Breaking Money Silence™". She has written 5 books including "How to Give Financial Advice to Women" and "How to Give Financial Advice to Couples" and "Breaking Money Silence: Shatter Money Taboos, Talk Openly about Finances, and Live a Richer Life." Often she is interviewed by consumers and trade publications, and recently was asked to serve as a Financial Reviewer for NerdWallet.com. 
In addition to being a podcaster and author, she's had the honor of being a sought-after keynote speaker on the topic of women and wealth and couples and money, and have spoken at hundreds of meetings and conferences including the Million Dollar Round Table, the Barron's Top Women Advisors Summit, IMCA National Conference, Investment News Retirement Summit, ING Women's Conference, Merrill Lynch Global Wealth and Investment Management Advanced Education Symposiums, BMO Nesbitt Burns Partners Conference, Women Advisor Forums, and many FPA Chapters. 
Kathleen's firm, KBK Wealth Connections, has been engaged by financial firms including Bank of Montreal, Janus Investments, Morgan Stanley, Pioneer Investments, TD Ameritrade Institutional, and US Trust, as a subject matter expert, consultant, and trainer. She continues to collaborate with financial institutions that are to create innovative advisor and client content, training, and educational resources. 
Third-party links and references are provided solely to share social, cultural and educational information. Any reference in this post to any person, or organization, or activities, products, or services related to such person or organization, or any linkages from this post to the web site of another party, do not constitute or imply the endorsement, recommendation, or favoring of Hightower Holdings, LLC, or any of its subsidiaries, employees or contractors acting on their behalf. Hightower Holdings, LLC, do not guarantee the accuracy or safety of any linked site.
Podcast: Play in new window | Download | Embed