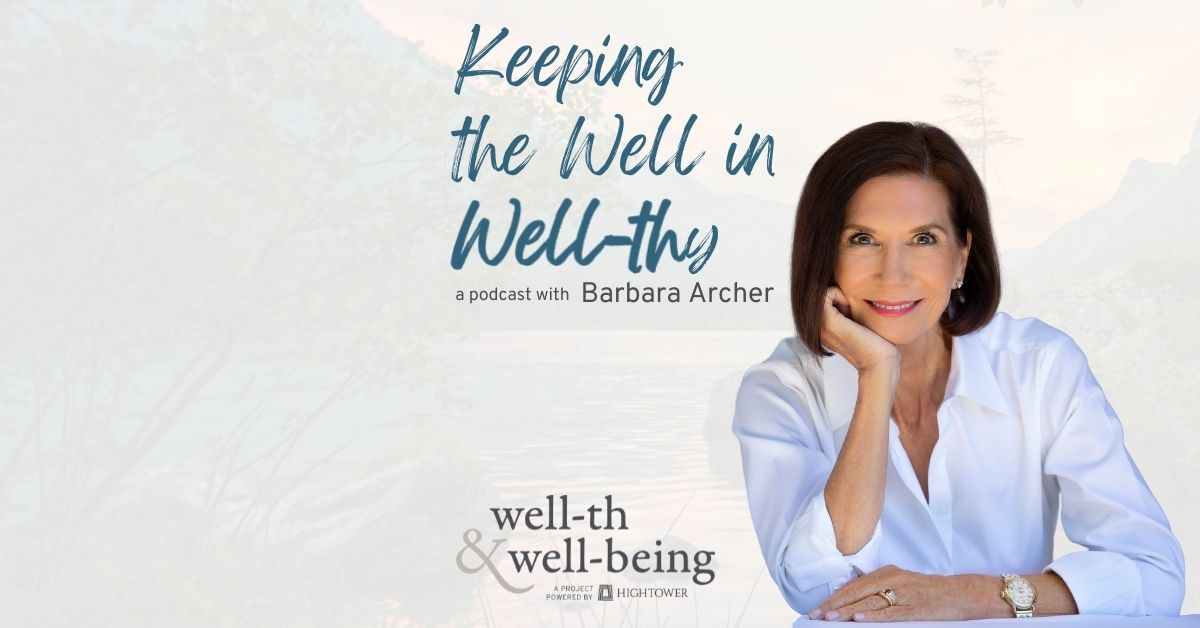 A Resolution For A Plant-Based Revolution With Dr. James Loomis and Caryn Dugan (Ep. 17)
A Resolution For A Plant-Based Revolution With Dr. James Loomis and Caryn Dugan (Ep. 17)
Living a plant-based lifestyle can seem intimidating, but Dr. James Loomis and Caryn Dugan are here to demystify the world of plant-based eating. 
Tune in to this episode of the podcast where Barbara Archer chats with plant-based experts Dr. James Loomis and Caryn Dugan to demystify the world of plant-based eating. Discover how these experts transitioned to this lifestyle, learn simple strategies for incorporating more plant-based foods into your diet, and be amazed by the numerous health benefits that come with a plant-based lifestyle. 
Topics Dr. Loomis and Caryn discuss: 
Resources:
Connect with Barbara Archer: 
Connect with Dr. James Loomis and Caryn Dugan: 
About our Guests: 
James F. Loomis Jr., M.D., M.B.A. received his medical degree from the University of Arkansas, where he was elected to the Alpha Omega Alpha Honor Medical Society and graduated with honors. He subsequently completed his internship and residency in internal medicine at Barnes Hospital/Washington University in St. Louis, MO. In addition, Dr. Loomis received an M.B.A. from the Olin School of Business at Washington University in St. Louis. He is board certified in internal medicine, is a diplomate of the American College of Lifestyle Medicine, and has also completed the certification program in Plant-Based Nutrition from Cornell University. Loomis is also a Fellow of the American College of Lifestyle Medicine.
 Dr.  Loomis has served as a team internist for the St. Louis Rams football team and the St. Louis Cardinals baseball team, as well as tour physician for the St. Louis Symphony Orchestra. He is currently the medical director at the Barnard Medical Center in Washington DC. Before coming to the Barnard Medical Center, he practiced internal medicine at St. Luke's Hospital in St. Louis, where he was also the director of prevention and wellness.
He is on the clinical faculty of the Department of Internal Medicine at George Washington University School of Medicine in Washington, DC and the Department of preventive medicine and Biostatistics at the Uniformed Services University for Health Sciences in Bethesda, MD.  He speaks internationally on the health benefits of a whole-food plant-based diet and is featured in the documentary "The Game Changers".  
 When not practicing medicine, Dr. Loomis enjoys reading, cooking, and teaching plant-based cooking classes. He also enjoys hiking, running, biking, and swimming, and has completed numerous half marathons, marathons, and triathlons, including an Ironman triathlon. 
Caryn Dugan knew something had to change after losing her father to cancer in 2008 and then just 10 weeks later was also diagnosed with cancer. Many attempts at a healthier lifestyle finally led her to a plant-based diet. After studying under Dr. Neal Barnard at the Physicians Committee for Responsible Medicine (PCRM) in 2011 and earning her certificate in plant-based nutrition from Cornell University, she began counseling and teaching others. Caryn began STL Veg Girl traveling all around St. Louis (and eventually nationally!) speaking and presenting on the topic of plant-based cooking and meal prep to prevent and reverse our all too common chronic illnesses.
Third-party links and references are provided solely to share social, cultural, and educational information. Any reference in this post to any person, or organization, or activities, products, or services related to such person or organization, or any linkages from this post to the website of another party, do not constitute or imply the endorsement, recommendation, or favoring of Hightower Holdings, LLC, or any of its subsidiaries, employees or contractors acting on their behalf. Hightower Holdings, LLC, do not guarantee the accuracy or safety of any linked site.
Podcast: Play in new window | Download | Embed