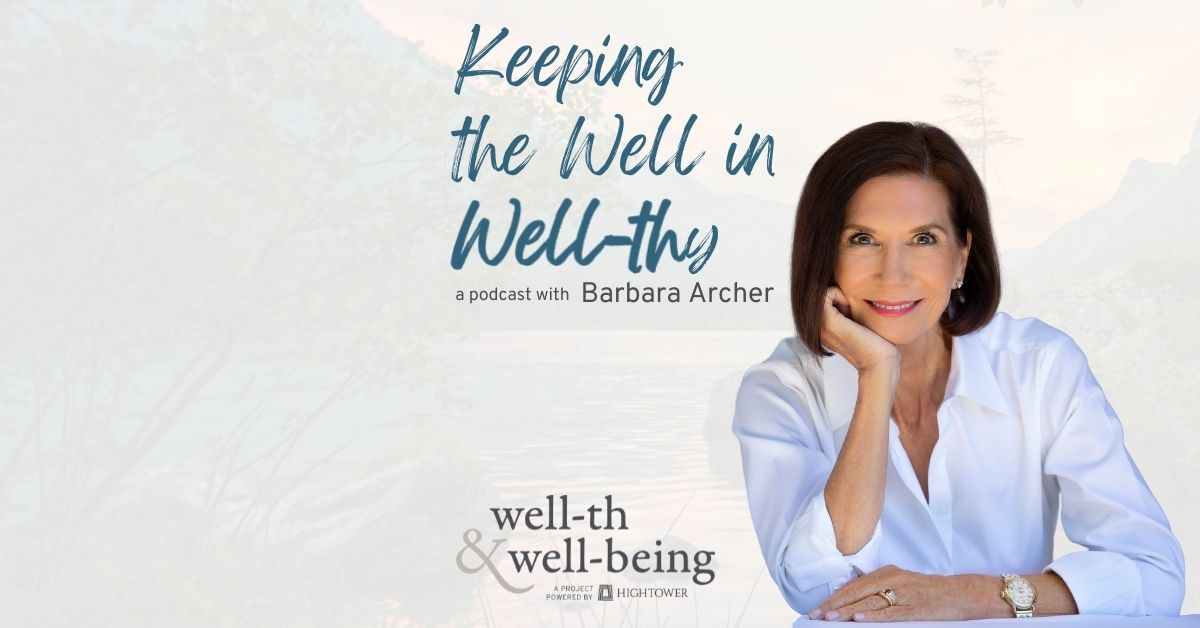 Better Midlife Transitions with Chip Conley (Ep. 22)
Better Midlife Transitions with Chip Conley (Ep. 22)
Have you, or any of your acquaintances, ever experienced what many would perceive as a midlife crisis? Whether it manifests as a bold change in hairstyle, a shift in career trajectory, or an unexpected yearning for relocation, we all encounter moments of breakthrough that have the potential to reshape the course of our lives.
In this episode, join Barbara Archer and renowned author and speaker, Chip Conley, as they explore the transformative power of what many perceive as a midlife crisis. These are the moments that compel us to change our hairstyle, career path, or even seek a new place to live. Chip, having disrupted the hospitality industry with Joie de Vivre Hospitality and as Airbnb's former head of Global Hospitality and Strategy, brings profound insights on aging and finding renewed zest for life, regardless of age. Get ready to be inspired as they uncover the secrets to embracing change and living with purpose.
Chip discusses more on the following topics:
Unveiling ways to continually question and invigorate your life, regardless of the stage you're in now.

The profound concept of the modern elder and how it can profoundly impact your own journey.

Drawing from his personal experiences while working with Airbnb, Chip shares how his professional path intertwined with his personal growth during that transformative period

And so much more!
Connect with Chip:
Connect with Barbara: 
About our Guest: 
Chip Conley is on a mission. After disrupting the hospitality industry twice, first as the founder of Joie de Vivre Hospitality, the second-largest operator of boutique hotels in the world, and then as Airbnb's Head of Global Hospitality and Strategy, leading a worldwide revolution in travel, Conley co-founded Modern Elder Academy in January 2018. 
Inspired by his experience of intergenerational mentoring as a 'modern elder' at Airbnb, where his guidance was instrumental to the company's extraordinary transformation from fast-growing start-up to the world's most valuable hospitality brand, Modern Elder Academy is the first-ever 'midlife wisdom school.' Dedicated to reframing the concept of aging, Modern Elder Academy supports students to navigate midlife with a renewed sense of purpose and possibility. Modern Elder Academy has more than 3,000 alumni from 42 countries and 26 regional chapters globally and is is expanding to the United States with a new campus and regenerative community slated for Santa Fe, New Mexico to open in 2024. 
Conley is also the award-winning author of New York Times bestseller Emotional Equations, alongside Peak: Great Companies Get Their Mojo from Maslow, The Rebel Rules, Marketing That Matters: 10 Practices to Profit Your Business and Change the World, and Wisdom at Work: The Making of a Modern Elder, which forms the core of the Modern Elder Academy's curriculum. Conley's book A Year of Wisdom coming out this year is based on daily inspiration and insight from his Wisdom Well blog. Learning to Love Midlife, a book about rebranding midlife to help people understand a life stage that is misunderstood, will be released in January 2024.
A near death experience survivor, Conley is the recipient of hospitality's highest honor, the Pioneer Award, and was named the Most Innovative CEO in the San Francisco Bay Area by the San Francisco Business Times. He is the founder of the Celebrity Pool Toss that supports families in the Tenderloin neighborhood where he opened his first hotel, and San Francisco's Hotel Hero Awards. Chip holds a BA and MBA from Stanford University, and an honorary doctorate in psychology from Saybrook University. He serves on the board of Encore.org, and the advisory board for the Stanford Center for Longevity.
Third-party links and references are provided solely to share social, cultural and educational information. Any reference in this post to any person, or organization, or activities, products, or services related to such person or organization, or any linkages from this post to the web site of another party, do not constitute or imply the endorsement, recommendation, or favoring of Hightower Holdings, LLC, or any of its subsidiaries, employees or contractors acting on their behalf. Hightower Holdings, LLC, do not guarantee the accuracy or safety of any linked site.
Podcast: Play in new window | Download | Embed