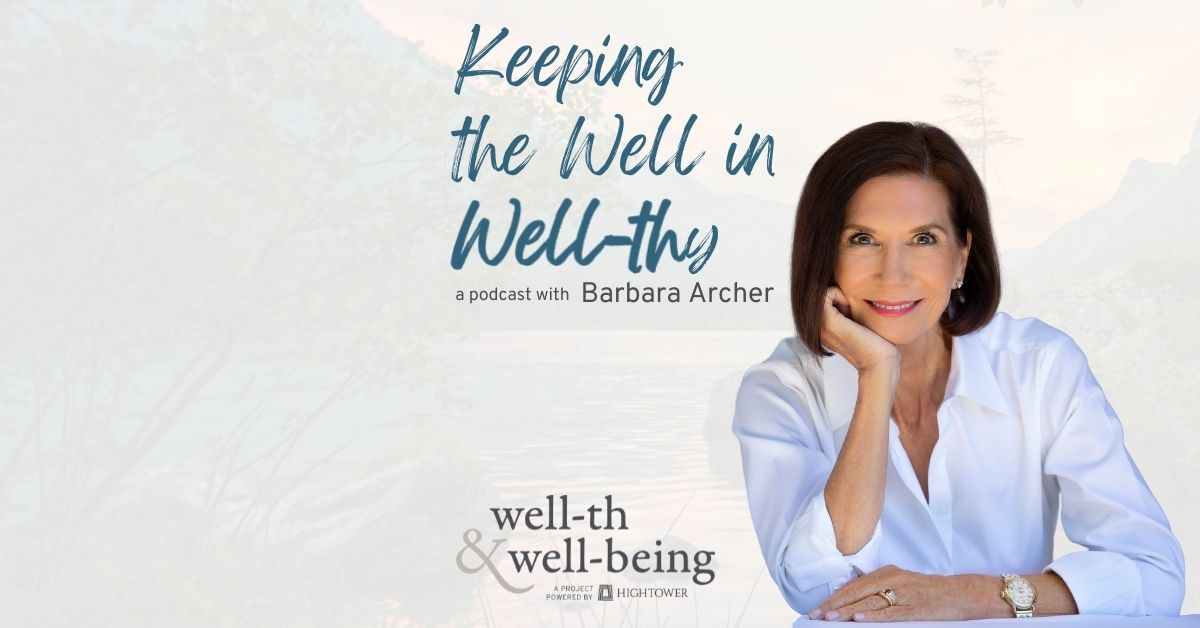 Aging With Grace with Maddy Dychtwald (Ep. 23)
Aging With Grace with Maddy Dychtwald (Ep. 23)
As advancements in anti-aging research yield promising results, our understanding of adulthood may undergo a profound transformation.
In this episode, Barbara Archer is joined by Maddy Dychtwald, an esteemed member of the Wall Street Journal's expert Panel on retirement. Maddy, a prolific author with three books under her belt, is currently immersed in writing a groundbreaking new book titled 'Ageless Aging Women's Longevity Bonus' in collaboration with Mayo Clinic Press. This pioneering work explores the intersection of art, science, and the pursuit of a longer and more fulfilling life—an endeavor that holds deep personal significance for Maddy.
Maddy discusses: 
Healthspan versus lifespan: what that means for us

Some practices to implement in your day to day to keep yourself young and healthy

How a single mindset shift can prevent you from aging faster

The importance of being connected to a purpose for better health and longevity 

How you can keep yourself young, fit and happy no matter how old you are

And more
Connect with Barbara: 
Connect with Maddy Dychtwald:
About our Guest: 
For more than 30 years, Maddy Dychtwald has been deeply involved in exploring all aspects of the age wave and how it's transforming the marketplace, the workplace, our world, and our lives. Along the way, she has become an internationally acclaimed author, speaker, Wall Street Journal blogger, and thought leader on longevity, aging, the new retirement, and the economic ascent of women. 
A successful entrepreneur, Maddy co-founded Age Wave, the world's leader in understanding and addressing the far-reaching impacts of our aging population. The Age Wave team has worked with more than half of the Fortune 500 in industries ranging from healthcare and medical technology to financial services and consumer marketing.
With women at the forefront of the longevity revolution, Maddy has dug deep into their specific longevity-related wants, needs, and challenges. She has led numerous acclaimed studies on women and money, including the landmark Women, Money and Power sponsored by Allianz and, most recently, Women and Financial Wellness: Beyond the Bottom Line for Bank of America Merrill Lynch. In addition, she has been involved in more than 25 thought leadership research studies worldwide on aging, longevity, retirement, health, family, caregiving, housing, and leisure, which have cumulatively garnered more than twelve billion media impressions. 
She is the author of three books, Cycles: How We Will Live, Work, and Buy (voted Book of the Year by the National Community Colleges Association) , Influence: How Women's Soaring Economic Power Will Transform Our World for the Better, and the children's/young readers' book Gideon's Dream: A Tale of New Beginnings. Currently she is working on a new book that combines her professional and personal passions: Ageless Aging: Women's Longevity Bonus and the Art & Science of Living Longer, Better to be published by Mayo Clinic Press.
As a blogger and member of The Wall Street Journal's Expert Panel on Retirement, Maddy's posts on leadership, wealth management, and financial planning have topped the most-read lists . Her insights and research have also been featured in prominent media outlets, including Bloomberg Businessweek, Forbes, Newsweek, Time, Fox Business News, CNBC, and NPR. www.maddydychtwald.com; www.agewave.com
Third-party links and references are provided solely to share social, cultural and educational information. Any reference in this post to any person, or organization, or activities, products, or services related to such person or organization, or any linkages from this post to the web site of another party, do not constitute or imply the endorsement, recommendation, or favoring of Hightower Holdings, LLC, or any of its subsidiaries, employees or contractors acting on their behalf. Hightower Holdings, LLC, do not guarantee the accuracy or safety of any linked site.
Podcast: Play in new window | Download | Embed