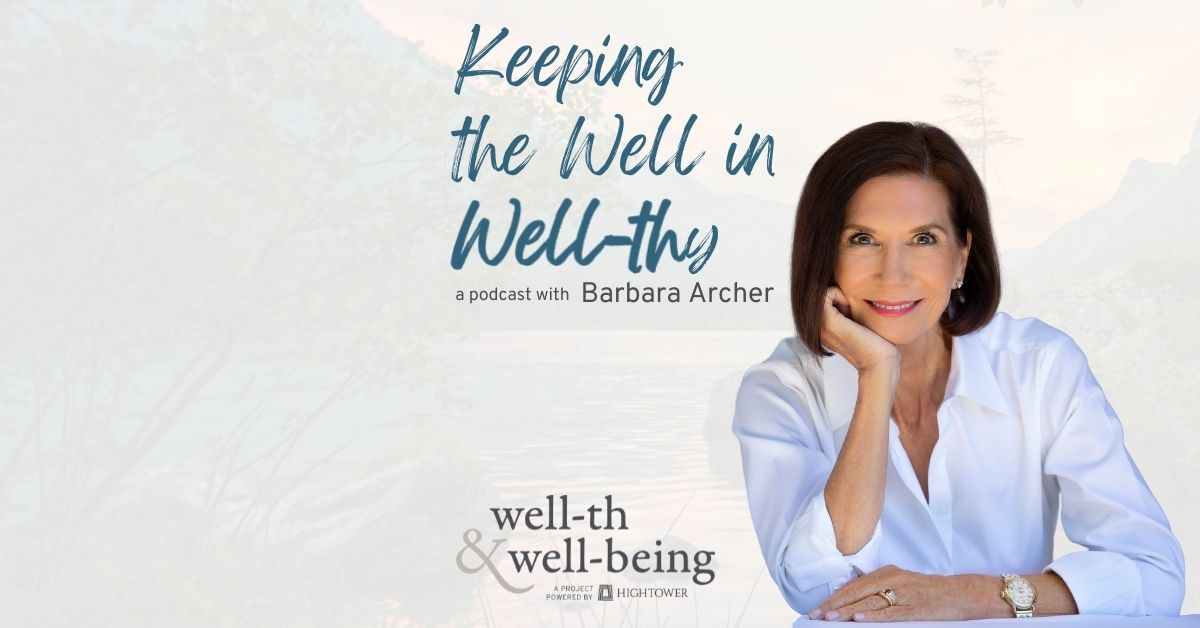 Brush up: Bite-Sized Dental Advice with Dr. Martinna Bertolini (Ep 27)
Brush up: Bite-Sized Dental Advice with Dr. Martinna Bertolini (Ep 27)
As we all know, living a well-balanced lifestyle goes beyond financial planning. It's about making a plan, making an investment, and making a difference in our own wealth and well-being. And part of that well-being is our oral health.
In this episode, Barbara Archer is joined by Dr. Martinna Bertolini, assistant professor in the Department of Periodontics and Preventative Dentistry at the University of Pittsburgh School of Dental Medicine, as she provides insights, recommendations, and tips for maintaining good oral health. She offers her expertise on various topics about our pearly whites such as wisdom teeth, dental anxiety and gum disease, just to name a few.  
Barbara and Dr. Bertolini discusses: 
Her insights on products such as water flossers, 

TMJ problems: what exactly it is, how to reduce pain and solutions 

The importance of taking care of your oral health 

And more
Resources:
Connect with Barbara: 
About our Guest: 
Born in Brazil, Dr. Martinna Bertolini earned a degree in dentistry in 2008 from the Federal University of Rio de Janeiro, Brazil, followed by a master's degree in 2011 and a certificate in clinical prosthodontics from the State University of Rio de Janeiro, also in Brazil. Then, she pursued her PhD (2015) at the University of Campinas (Brazil) with an internship period (2013 to 2014) at the University of Connecticut in Dr. Dongari's lab. She later returned to the same lab as a postdoctoral researcher, working for 3 years on host-microbial interactions and Candida infection in immunocompromised hosts. This research culminated on the first place award at AADR Hatton Competition in 2019.
With an extensive expertise on biofilm research and collaborations in the field of prosthodontics and bioengineering, Dr. Bertolini participated on projects that developed and optimized titanium surfaces to reduce bacterial adherence, receiving the first place Frechette Award Competition of the IADR Prosthodontics Group in 2020, and the first place on 'Advancing New Frontiers in Prosthodontics' of the Academy of Prosthodontics in 2021. 
Dr. Bertolini finished in 2021 her second master's degree in dental sciences with a certificate in clinical periodontics from the University of Connecticut and she is now a board-eligible candidate of the American Board of Periodontology, actively pursuing diplomate status. During the last year of her periodontics residency, she received the Educator Scholar award from the American Academy of Periodontology Foundation, recognizing her aspirations to follow a career in academia.
Currently, Dr. Bertolini has more than 30 scientific papers and book chapters in renowned scientific journals, such as PLOS Pathogens, ISME journal, Virulence and Journal of Infectious Diseases, while also actively working as ad hoc reviewer for scientific journals such as Frontiers in Immunology, Journal of Periodontology, PlosOne, JDR Clinical & Translational Research, and Biofouling among others, with over 110 reviews completed to date. She is guest editor on two special issues for Microorganisms and Frontiers in Cellular and Infection Microbiology.
As a double-trained clinician, with experience in prosthodontics (Brazil) and periodontology (U.S.), Dr. Bertolini has extensive experience in all facets of periodontal and dental implant surgery, with special interest on full arch implant reconstruction for edentulous patients, digital dentistry, as well as, bone regeneration and peri-implantitis therapy. She is dedicated to keeping up to date with the latest techniques and technologies in order to provide the best treatment options and service to patients.
She is enthusiastic about researching the oral microbiome states and explore the taxonomic and metabolic changes associated with the transition from healthy to diseased states, hopping that innovations in this field can improve the understanding about prevention, and treatment of oral-biofilm associated diseases across the life span. 
Third-party links and references are provided solely to share social, cultural and educational information. Any reference in this post to any person, or organization, or activities, products, or services related to such person or organization, or any linkages from this post to the web site of another party, do not constitute or imply the endorsement, recommendation, or favoring of Hightower Holdings, LLC, or any of its subsidiaries, employees or contractors acting on their behalf. Hightower Holdings, LLC, do not guarantee the accuracy or safety of any linked site.
Podcast: Play in new window | Download | Embed